Légumes-racines, je vous aime ! Gâteau betterave-chocolat
NB : Ce gâteau vous dit bien mais vous préféreriez une version sans gluten et sans sucres ajoutés ? Pas de problème ! Elle vous attend là !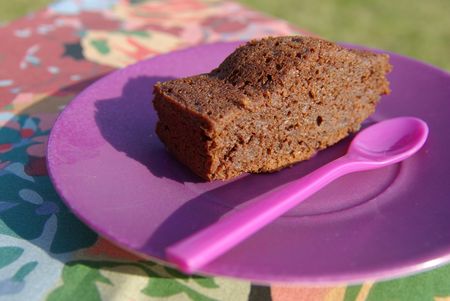 [If you would prefer to read this post in French, please click here.]
Take 10 ladies on a freezing February evening. Serve them each with a slice of this chocolate cake and you'll hear them cooing with pleasure. Next, have them guess what the ingredients are and the most scientific-minded among them will instantly find out. The mystery ingredient is beet, a sugary root vegetable which hides with perfect mastery behind the chocolate, himself a beautiful mood perker.
I brought this cake last Monday to the evening board meeting of the non-profit organization I belong to. If I had ever wanted to soften up the board members, I would not have done it any other way. Nor if I had wanted to be submersed in compliments. I was delighted with the chocolate and zucchini cake I tried a few years ago, just as I was with the chocolate and red kuri squash (else known as Hokkaido pumpkin) cake. The pleasure is the same here : the cake is soft and light and easy to digest thanks to the pureed vegetable and the low amount of fat it contains.
The beet flavor is very subtle : it is hard to tell unless you know it is there. Which means you do not have to reveal your secret weapon if you don't want to. Some of the ladies even thought they tasted ground almonds. In any case, the chocolate flavor is undeniably present and works toward helping us fight winter depression. A mandatory help these days !
Chocolate and Beet Cake – as seen on Miam Miam ou Beurk (literally, Yum Yum or Yuck), a blog written by Diane, a 10-year old that lives in Rouen, France
For 10 gourmet ladies !
* 200g cooked beet (Lasy me uses the pre-cooked type that is cut into dices and vaccum packed. It keeps forever and is therefore quite handy. Not mentioning the ugly red hands you avoid getting by handling raw beet…)
* 40g oil (I usually use canola oil. You can also use butter, like in Diane's recipe.)
* 200g dark chocolate
* 3 eggs
* 90g sugar (preferably unrefined)
* 80g flour (I used einkorn flour since I wanted a flavorful flour whose taste could stand up against that of beet. Einkorn flour is low in gluten, but you could also use rice flour to make the cake 100% gluten free. I'm just not sure about the general taste then.)
* 1 teaspoon baking powder
1 – Preheat the oven to 160°C (325°F) and grease a baking pan.
2 – Mix the cooked beet until it is pureed. My beet dices are rather hard to mix so this is when I added the oil in order to obtain a smoother texture. (If you prefer to use butter, melt it with the chocolate.)
3 – Melt the chocolate in a double-boiler (i.e., a heatproof bowl set over a pan of simmering water).
4 – Whisk together the eggs and the sugar in a mixing bowl until fluffy.
5 – Add the flour and baking powder and mix delicately.
6 – Finally, pour the chocolate and beet purée and mix it all up.
7 – Pour into the greased pan and bake for 45 minutes.
Retour à l'accueil